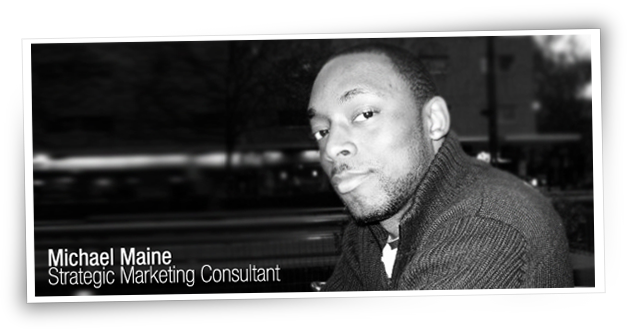 Me:
I am the type of person who just can't accept things for the way they are. I like to research and grow everyday. When it comes down to it, I just really love to learn. I'm crazy about business, sociology, communication, and marketing. I think social awareness is the key to many of life's problems. People who know me say I am one of the most social people they know. I feel like we can learn something from everybody…

BIO (In convenient copy and paste 3rd person):
Michael Maine is the founder and chief strategy officer of Menrva Labs, a consulting firm that focuses on helping small businesses and non-profit organizations fully realize their potential by working with them to identify goals, build strategies, and execute those strategies. Most recently work includes marketing consulting and graphic design for the Cystic Fibrosis Foundation Lone Star Chapter, LITERACY San Antonio, and dragonFLY educational.

Prior to starting his own firm, Michael served as the marketing manager for Interlex Communications, Inc., a multicultural advertising agency dedicated to making positive impacts in the lives of diverse audiences. Headquartered in San Antonio, TX, Interlex serves local, national, and international clients. Most recently the agency has led disaster relief efforts in Chile and Haiti, increased vaccination rates among youth in Texas, and is now working to fight obesity and its health problems in San Antonio.

Michael also honed his international marketing skills when he created the position of international marketing strategist for Albagli Zaliasnik & Cia, an international law firm in Santiago, Chile, where he developed their global marketing strategy, social media campaign, and internal quality control processes. He is passionate about collaboration in communication, learning, and problem solving, and enjoys working with people to address the roles of marketing in reaching business goals. Michael is an active member of the AMA (American Marketing Association) and is a founding member of their Non-Profit Marketing special interest group, providing free professional marketing insights to non-profit organizations in San Antonio and surrounding areas.

Although relatively new to San Antonio, Michael is active in the community, volunteering with the Guadalupe Cultural Arts Center, LITERACY San Antonio, and the Cystic Fibrosis Foundation Lone Star Chapter. Besides offering his time, he also lends his professional experience by developing and writing marketing plans, helping in the organization and execution of events, and developing programs designed to help underserved communities. When he's not working or volunteering, his hobbies include reading, writing, basketball, and food.

Michael is a graduate of Southwestern University in Georgetown, Texas, where he completed his BA in Business with minors in both Sociology and Communications. He currently sits on the Alumni Advisory Committee.
Interests:
When I'm not working, I like to spend my leisure time reading, playing basketball, running, traveling, writing, and connecting with others…
Purpose:
The purpose of this blog is to share what I'm learning and have the opportunity to learn from others…
What else do you want to know?
Rather than tell you what I think you want to know, how about I tell you what you want to know? I'm leaving this page open for comments. Feel free to leave your questions in the comments and I'll comment back with the answer.
Let's Work Together
My goal is to effect positive change. Besides my full-time job, I am working on Menrva Labs, which is intended to promote social change by increasing social consciousness. If you have any projects you'd like help with, or if you have any ideas for my projects, feel free to let me know. I'm available all the time.
If for whatever reason you would like to work with me, contact me via:
Email: mail [at] michaelbmaine.com [dot] com
Phone: 972.699.1758
Résumé: Download my branding book and/or résumé here or view below.
Alternatively, if you want to start a discussion, feel free to leave your ideas or requests in a comment below.